Chartered Insurance Institute – CII
Date: 18th October 2012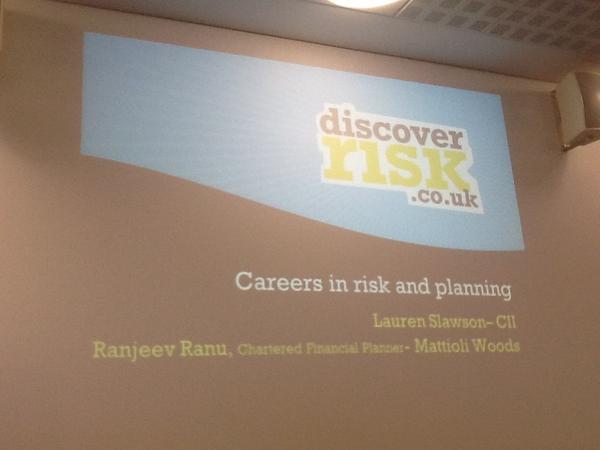 The Chartered Insurance Institute were the first organisation to come and kick off our EYE series at DMU.
The CII is the largest professional body for the risk and financial services and Lauren Slawson, a representative from CII came to explain further.
What exactly is Risk?
Firstly, it's the third largest sector in the world because insurance and risk do not rely on the economy! They rely on people always wanting to protect and prevent risk in life, therefore making it a robust sector to work in.
This type of role is definitely not a 9 – 5 office role and there are various risk areas you could get yourself into. So what is Risk made up of?
Climate

Political/construction/sports

Terrorist attacks

Special risks
Special risks were definitely a talking point.
Did you know that a Costa Coffee taster has his/her taste buds insured for £5 million? Or that F1 Sebastian Vettel's finger is insured for £1 million for his signature victory routine?
Employment in Risk
The UK employs 275,000 people in risk with 25 – 30% of all jobs in the financial services.
The largest risk markets reside globally across the UK, USA, Japan and China, which means this will enable you to travel, should you wish to venture out.
The ranges of roles available are:
Specialist and client-facing

Brokering and underwriting – pre-event

Claims and loss adjusting – post-event
Risks need to be insured at all levels and when Michael Jackson announced his 50 – date UK tour, brokers and underwriters came to a decision to insure £17.5 million to cover 20 dates of his tour, including death by accidental overdose!
Post-event will involve the claims and loss adjusting process but will equally require a need for compassion and empathy in this role, as many of the events can be devastating and traumatic for your clients and therefore being a people person is vital.
Risk is not restrictive!
There are graduate schemes available, which are focused on Accounting, Marketing, HR, IT and Business development, so the opportunities are endless.
So what qualifications do you need?
Most graduate schemes will provide CII Advanced Diploma in Insurance (ACII) qualification which can take up to 2 – 3 years to complete. The qualification also enables you to focus on areas such as law, management, brokering, claims, underwriting, risk management and marketing.
ACII is a globally-recognized qualification and equivalent to a second passport but if you want to aim higher, then reaching a chartered status is the epiphany of all statuses.
So what skills do I need in Risk?
Communications skills – being in risk means talking to a variety of people on all levels in different stages of their lives, which means effective communication and genuinely being able to build rapport will make your life much easier in risk.

Negotiation skills

Flexibility – Lauren did mention that there is a myth that people in risk work all hours under the sun but this is not the case. Yes, the general working day may end at 6/7pm but you could be out for client meetings in a variety of settings, from posh lunches to discussing risk over a glass of fine wine!

Analysis

Problem solving – quick thinking and being open to all options is a must

Commercial awareness – wherever you go!

Languages – employers love it if you speak more than 1 language, so please put on your CV when applying. Remember risk is global.

NB. High levels of mathematics are not essential but you need to be comfortable with numbers!
People in risk have degrees from Fine Art, Egyptian Archaeology to Performing Arts, so do not think you are restricted by your qualifications.
So where are the jobs?
There are many well-known big players in the market, including AVIVA, Hiscox and Lloyd's of London, but it is always worth tapping in to the re-insurers for further opportunities:
Ageuas

Chartis

Kiln

RSA

Aspen
SMEs in Risk?
There is a huge SME market out there for risk who may not be able to offer a graduate scheme but could offer short-term internships, a job shadow experience or just a conversation, which always helps. If you're struggling to get your foot in the door, consider calling a local employer and asking for an appointment over coffee to discuss insights into the company and the risk roles. Even putting this sort of experience on a CV will impress risk employers.
Makes sense to show your initiative than not doing anything at all.
Financial Advice and Planning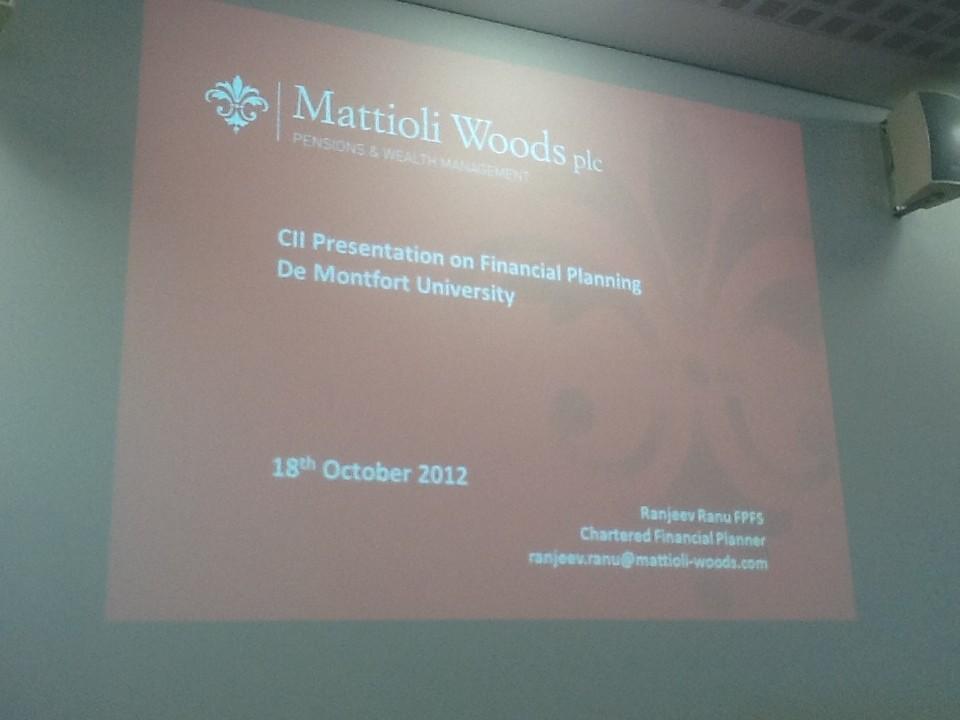 Financial Advice and Planning is a process of helping people secure their financial future. However, you need to know what makes people tick to negotiate and the rewards could be long-lasting, such as supporting a client from being single to when they retire and you've helped their partner, children and grandchildren along the way. Close relationships and loyalty can be formed as part of this role, which would benefit both you and the customer.
Don't despair if this is not for you. Be a Paraplanner!
If you are not a people person but still interested in Financial Planning, then specialist roles as Paraplanners would suit you best. Here you will help build a case study and provide the financial planner with details.
So who needs financial planning?
Simple – anyone and everyone; from the average family saving for their children's future to millionaires and Premier League footballers!
Guest Speaker
Raj Ranwar, Chartered Financial Planner from Mattioli Woods reveals the truth about being in Financial Planning.
Here's a thought…
'Nothing in life is certain, but death and taxes'- Benjamin Franklin
So where does that leave Financial Planning? In the best place ever!
Raj went on to describe the skills and qualities required to be a successful financial planner.
Hard work
Lateral thinking – always thinking of the bigger picture
Articulate in conveying ideas
Good networking skills
Initiative
Presentation skills
Likability and trust
What is the process of recruitment at Mattioli Woods?
Telephone interview
Assessment Centre
Final Letter
Offer!
Best tip from Raj – It is a well-paid sector if you work hard.
So what's the future like for Financial Planning?
By the end of year 2012 all financial planners will need to have chartered status due to changes in regulations. Currently the average age of a financial planner ranges from 54-55 but by the end of this year/beginning of next year there will be a gap in the market, therefore space for fresh graduates and more roles will be advertised in this sector!
Most 2012-2013 graduate schemes and internships are now open for application in both Risk and Financial Planning!
Employers include:
Aon
Aviva
Hiscox
Lloyd's of London
Standard Life
Allianz
Aspen
Catlin
Directline
Key ways to get ahead in Risk and Financial Planning?
LinkedIn – networking is key

Read the trade press

Check, check and re-check your CV – always tailor it to the role and each company you apply for

Internships – gaining work experience before graduation will take you further but if not, use your initiative to contact employers

Discover membership – Pay £35 for a membership for a year and gain access to the Discover Risk LinkedIn Group and networking events.
Check out the vacancies and find out more detail here.